NEUROLOGY & REHABILITATION
The department treats all kinds of neurological disturbances and has at its disposal doctors coming from different areas of expertise and with extensive experience and the best equipment to accompany diagnosis and treatment.
The hospitalization department includes 27 beds of which some are reserved for stroke patients. The Department has an adjacent clinic and service and diagnostic laboratories which saves the patient precious time in the performance of tests connected with the diagnosis of his illness.
Two important medical centres are active within the framework of the Department: the Center for the Treatment of Multiple Sclerosis Patients which functions in conjunction with the clinic at Ein Kerem under the direction of Prof. Oded Abramsky (former Head of the Department) and Dr. Dimitrios Karussis, and the Center for Neurogeriatrics administered by Dr. Zeev Meiner at Mt. Scopus.
Rehabilitation Center and Neurogeriatrics
Paraneoplastic Neurological Disorders (PND)
Autoimmune Diseases in Pregnancy
Hadassah Comprehensive Epilepsy Center
The Unit for Neuro-Immunology, Multiple Sclerosis & Cell Therapy
Coordinated Stroke Therapy
Amyotrophic Lateral Sclerosis (ALS)
Neurodegeneration Behavioral Research
Relevant Diseases / Treatments
Amyotrophic Lateral Sclerosis
Coordinated Stroke Therapy
Autoimmune diseases of the nervous system (Neuroimmunology)
Multiple Lateral Sclerosis
Chairman of the department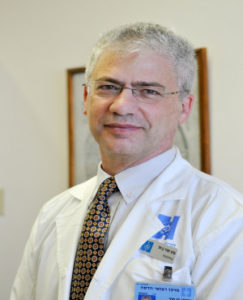 WE ARE HERE FOR YOU 24 hours DAILY.
Just make an appointment to get help from our experts